Whenever possible, I like to share some of the magnificent locations, which are the subject of my favourite images, with fellow photographers, artists and visitors. My clients are usually interested in photography but are often also interested in landscape or nature painting and drawing, natural history (including geology), or just discovering and appreciating the serenity and beauty of our precious wild and natural environment. My tours consistently exceed the expectations of participants.
The tours are scheduled by arrangement and are tailored to suit the individual interests and experience level of participants.Hands on tuition and tips are happily provided to improve your photography. If you wish, we can brush up on technical aspects of optics, composition, choice of lenses and filters and much more. I can give you a thorough grounding (or upskilling) of Digital photography and post capture processing and workflow. I can supply essential equipment including high resolution SLR digital cameras (which also have manual control functions) for you to use on the safari.We can supply you with a disc of your images to take home with you. Transport by comfortable 4WD vehicle is provided from your accomodation and our tours can be scheduled for the magic first morning or last evening light time frames.
I can cater for novices with just limited experience ( I would love to introduce you to the absolute joy and passion that can come from becoming a photographer).
And I can offer much to serious experienced photographers too.
The places I will lead you to are often well off the beaten track, so itineraries, availability and timetables will depend on seasonal & prevailing weather conditions at the time and of course your own interests, ambitions, inclinations and experience. If you are going to be staying in the area for a reasonable period I will be happy to schedule your safari to make the best use of favourable weather envelopes. I have lived and photographed in the Central Otago region for more than 30 years now and have published three highly succesful photographic books on the area (and have contributed to several others) so do know some of the most suitable places to guide you to.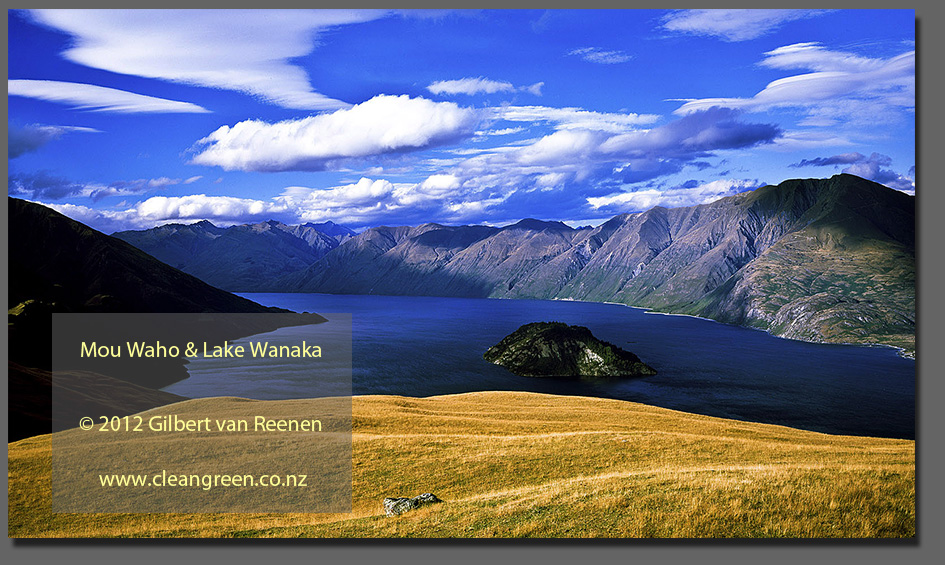 Guided phototours can range from a short two hour instructional or scenic tour in close proximity to Lake Wanaka (or Queenstown) - by comfortable 4WD vehicle, to whole day excursions to awesome places selected from a myriad of visually stimulating locations throughout Central Otago or South Westland. Multiday expeditions to Stewart Island, Fiordland or other parts of the South Island can also be arranged. We are also able to offer Helicopter aerial safaris to a range of mind blowing locations. If you are interested in photographing vineyards, then I can take you to some of the most picturesque vineyards in the world. While you are here you may be able to savour some Central Otago Pinot Noir, Pinot Gris or Riesling which is becoming world renowned. We can also arrange guided tours to other parts of New Zealand and further afield. We also provide location scouting services to still and movie production companies.

If you would like detailed information or want to contact me about any aspect of our Cleangreen Central Otago Photo Safaris or Nature Tours please click here.ane zealand images original fresh professional photography of central otago wanaka queenstown south